Holiday Artist Studio Tour 2022
Saturday, December 3, 2022
The 6th Annual MAC Holiday Artist Studio Tour features the work of six local artists whose creations range from ceramics, jewelry, and painting to leather goods and fiber arts. The self-guided tour format allows you to visit the artists in any order and to linger or stop for a break along the way.
Tour 10 am-4 pm. Visit artists in their studios - see where they create and how they work. Art available for sale (100% of the proceeds go directly to the artists.)
Reception 4-6 pm. End your day at the Steam Plant and mingle with the artists, enjoy live music from Ron Kieper Jazz, wine and beer for purchase, and a drawing for artwork from Helen Parsons or a pottery lesson with Tim Lynch.
$20 tour and reception
$15 tour only
Purchase tickets at the MAC or online.
Support provided by
Christina Deubel
Painting
Christina Deubel of Mountain Tidings is a finger-painting fine artist with an eye for adventure. Born and raised on a 500 acre ranch just outside of Spokane, her earliest memories are of animals and exploration. Today she spends her summers painting her way across the Western States and her winters hunkered down, creating large boldly colored paintings in her downtown Spokane art studio.
Her goal as an artist is to share the natural vibrancy, majesty, power, and beauty of nature with the viewer. Bold colors, bursting with personality; her wildlife portraits & landscape paintings are a heart warming salute to the animals and places she loves.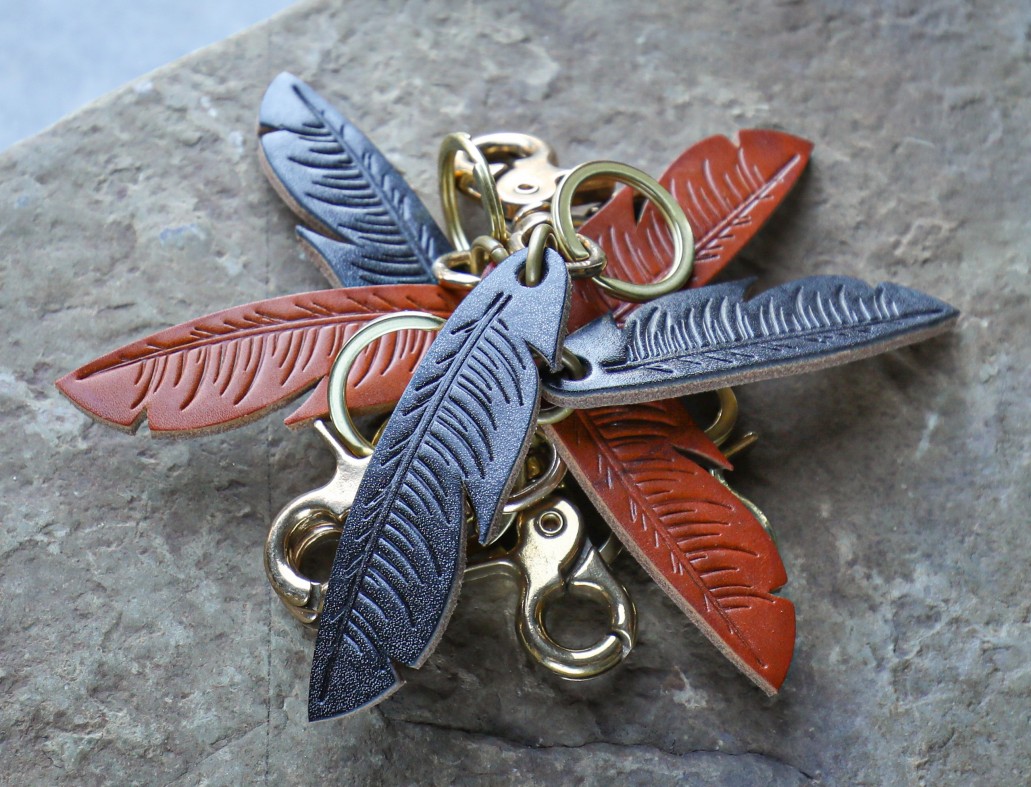 Ben Fife
Leather Goods
Ben Fife Westward Leather Co. was established in 2014, as the culmination of Ben's passion for creativity, art, history, and functional design came together under the banner of a timeless material. Leather has the beauty to tell a story. It can be tough and durable. It can be supple and elegant. It can be shaped, molded, carved, and sculpted. Regardless of the approach, leather is a timeless canvas to work with, and one that invites a multitude of sensory experiences. The heritage, combined with the functional aspect of leather goods, is what attracted Ben to the craft. He focuses on elegant, simple designs while implementing durable construction techniques. By sourcing some of the finest leathers in the world, Westward Leather Co. produces heirloom quality goods made for daily use, aimed to last a lifetime.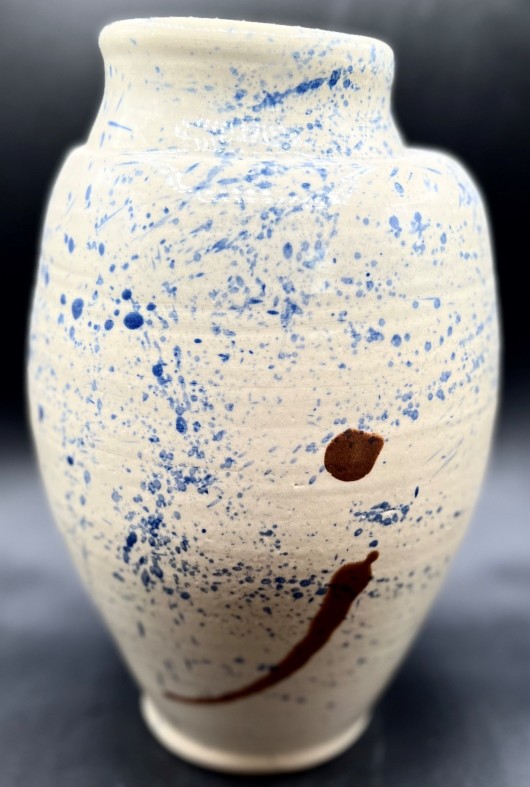 Tim Lynch
Pottery
My awareness of the world of clay started as a youngster when I would visit my grandfather in Tonasket, WA. He was a potter and during my visits, he would let me watch him make a lump of clay stand up, as if by magic. He would let me try my hand at it. I wasn't successful. After high school, my visits became yearly and I pursued a career as a professional drummer. When I'd had enough, I finished college. During the interim between college and a real job, and two years after my grandfather passed, I found clay again. I got a job teaching English in Wenatchee and pursued my new "hobby." I built a wheel out of spare parts. Not being able to afford commercial clay, I began digging my own clay, a process I still do. Eventually, after a couple of moves, I set up a bona fide studio, complete with an electric kiln. I became fascinated with wood firing and eventually built my own wood-fired kiln in my backyard. I sold my wares in a downtown furniture store and took part in local exhibits locally and in Leavenworth. After another move, I purchased a gas kiln and pursued my love of flame. I hosted other artists in my studio and made as many pots as I could. After retirement, I moved to Spokane to gain a larger audience for my pots. A studio fire in November, 2021, set me back but it is rebuilt and I am pumping out pots. I consider my style to be Northwest Asian Rustic. I love Chinese, Japanese, and Korean pots and glazes. I incorporate an anthropomorphic style influenced by my grandfather. I am honored to be a part of this tour. I welcome you all to come visit.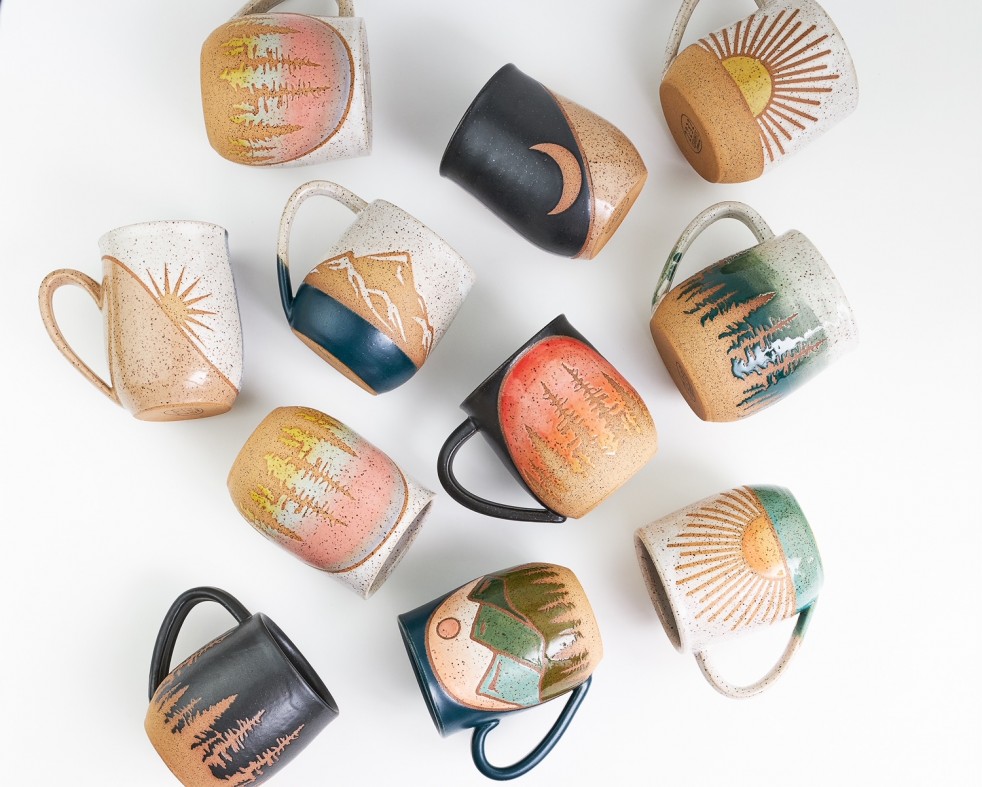 Brooke Martinez
Pottery
Brooke Martinez is a potter from Spokane, Washington who is inspired by color, line design and the surroundings of the Pacific Northwest.
She creates wheel thrown pieces from her home studio where each piece is hand decorated and fired to 2232 degrees.
The 2232 mission is to create colorful pottery for daily use that will brighten your home for years to come.
Helen Parsons
Fiber Arts
Helen Parsons is a self-taught, process driven, multi-disciplinary artist with a focus in fiber arts. With 45+ years in textile exploration and as a life-long student of contemporary art, her work ranges from large ethereal installations to bold silhouettes in rich texture.
Parsons intent is to investigate and document humanity by way of deconstruction and reconstruction. Recent work explores narratives of graffiti culture, sense of place, and the complexities of wanting to be both anonymous and acknowledged.
Parsons work is collected internationally and is in private and public collections. She is a 20-year resident of Spokane, WA where she is an active community arts advocate and shares her home with her partner, a dog and a cat.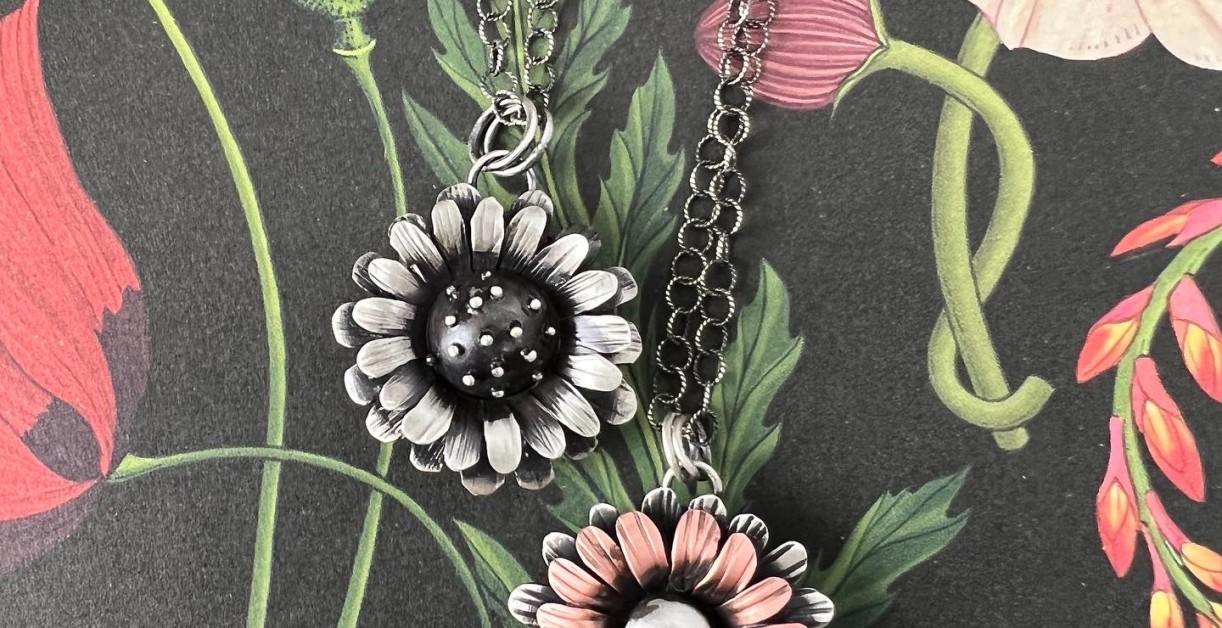 Amber Wyckoff
I am Amber Wyckoff, the artist behind A. Wyckoff Handmade Jewelry.
My artistic vision is expressed through the use of mixed metals; silver & copper. The creative journey begins with raw materials. I saw, stamp, solder and stone set all my pieces by hand. I LOVE working with fire!
Every piece I make is beautiful yet functional, making it the perfect thing to wear casually or for that special touch at an important event.
I believe jewelry should be worn every day, no matter the occasion, and I design my jewelry to achieve this! My studio is located in the Pacific Northwest- in Nine Mile Falls, Washington. If I am not in my studio you will spot me out exploring the mountains!